When choosing a the type of lure, an angler must take a lot of aspects into consideration. Different species are attracted to different prey, fishing tackle supports different weights and the weather and water conditions are likely to influence the visibility and appeal of different lures. Also, it is important to know what is the water depth you will have to place the lure at in order to get the fish to bite. It is therefore crucial to understand the traits of the species you plan to fish, what they like to eat and where are they usually found.
Bass is commonly known as a fierce predator. It eats living, moving prey, so a lure must render a great resemblance to a living creature. But more important than the actual aspect is the way the lure moves through water. Softer plastic or rubber lures will render a trembling, wobbly movement that have good chances of fooling the bass. They also allow a better positioning on the hook and might give you a better hooking set once the fish bit.
Still, bass also eats differently depending on the season. This is why, it is recommended that you use bright, coloured lures in the winter and silver, chrome or natural, soft colours in the summertime, especially if you're having a sunny, clear day.
Whichever the case, since no angler can give you the absolute best lure tip, you must first decide between the different categories of artificial lures out there: spinnerbaits, crankbaits, topwater lures, jigs, swimbait lures, rubber worms and such.
Crankbaits are one of the best lures for bass, with a high number of catches, but you need to be a skilled caster for a correct and fruitful presentation. Jigs are work better when fished slowly, and go well for cover areas.
Plastic or rubber worms are a great lure because of their compatibility with every season and water condition. You can use any size and still have a fat chance to go home with a big bass.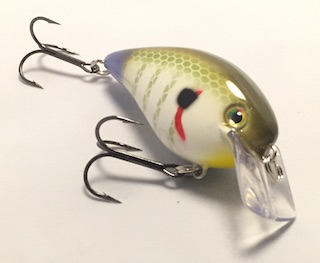 Another versatile type of lure that you can cast in every season is the spinnerbait. This is a type of lure that works perfectly within bass classic covers such as fishing grass, brush or stump fields. Just like in the case of most bass lures, make sure you upgrade the size of the lure as you tranzit to winter fishing.
No matter how excited you get about one particular category of lure, it is best that you bring along more than one so you can switch rapidly if the bass is squeamish. You can always use an old bass fishing trick: when it is fighting, the bass empties its stomach and you can usually make out what it has been feeding on that day. You will thus have an idea about what type of lure has the best chances to work.
Our pick for the best bass lure is the rubber worm, because of its versatility and accounts of success, but remember to give a try to more than one category, as you can never know what will suit you best until you've tried it.